Share:

The EUR/GBP made a late-week break for the 0.87 handle.
The Pound Sterling continues to give up ground after a dovish BoE shrank from rate hikes,
EU PMI figures came in mixed, keeping Euro gains restrained.
The EUR/GBP stretched for the 0.8700 major handle in Friday trading, closing the week with over a full percent of upside gains with the Euro (EUR) seeing its best trading week against the Pound Sterling (GBP) since early February.
BoE balks on rate hike, EU Manufacturing PMI misses the mark
The Bank of England (BoE) pulled back from a broadly-anticipated rate hike this Thursday after inflation figures for the UK economy came in broadly lower than expected. The UK central bank is seeing inflation fall away faster than previously expected, and the BoE is set to see a "none and done" end to the rate hike cycle.
Eurozone Purchasing Manager Index (PMI) figures came in mixed early Friday, with the headline Composite PMI for September printing at 47.1, reversing the forecast decline 46.5 and climbing further from the previous period's 46.7.
The underlying components were less positive, leaving the Euro with limited upside following the release.
The EU Services PMI printed at 48.4, well above the forecast 47.7 and improving from the previous 47.9.
The Manufacturing component flubbed market forecasts, printing a disappointing 43.4, ticking down from the previous 43.5 and entire missing the market's expected improvement to 44.0.
Read more:
BoE holds interest rate steady at 5.25% in split vote
Eurozone Preliminary Manufacturing PMI unexpectedly falls to 43.4 in September vs. 44.0 expected
Next week is particularly anemic for both the Euro and the Pound Sterling, though next Friday will be seeing Gross Domestic Product (GDP) figures for the UK, to be closely followed by Consumer Index Price (CPI) numbers for the Eurozone.
EUR/GBP technical outlook
The EUR/GBP managed to etch in another gainer week, coming within sight of the 200-day Simple Moving Average (SMA) currently treading water near 0.8720.
The pair has accelerated cleanly through the descending trendline from July's swing high into the 0.8700 handle, and continued buying pressure will see the pair mount the psychological level and stage further gains.
On the downside, immediate technical support is coming from the 100-day SMA, currently turning bullish from 0.8600, and the bottom of recent consolidation is sitting further below near 0.8520.
EUR/GBP daily chart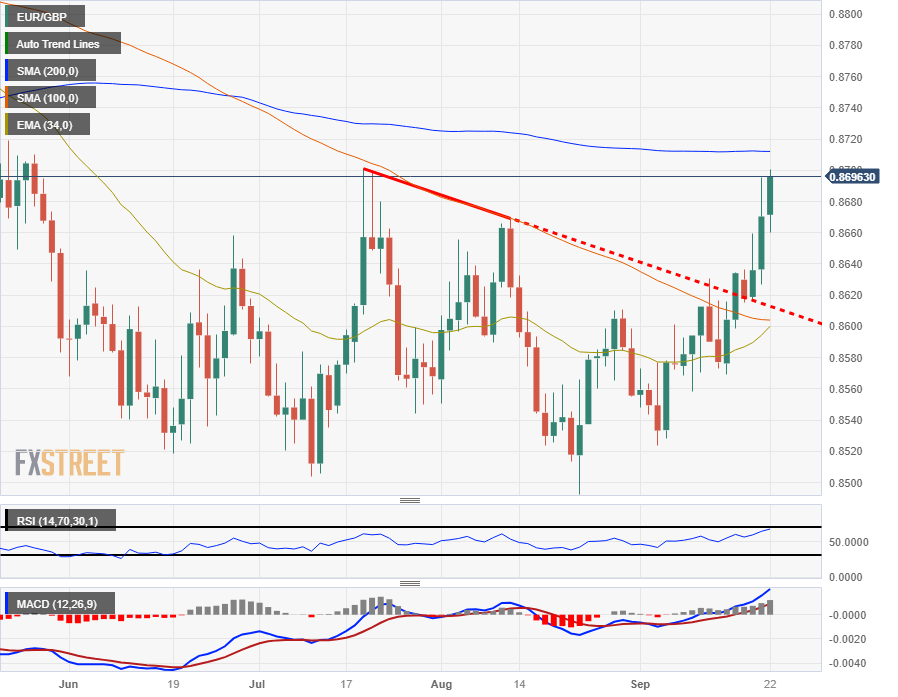 EUR/GBP technical levels